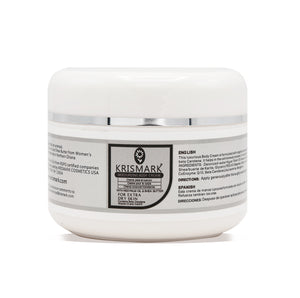 Krismark Body Cream with Red Palm Oil and Shea Butter
Regular price $20.00 Sale
This Body cream is for people with very dry skin. Product is made with red Palm Oil and Shea butter with jasmine and lilac.
This luxurious body cream is formulated with organic and edible Palm Oil and Shea Butter. Fortified with super vitamins, Tocotrienols, Vitamins E and beta Carotene. It helps in the cell renewal process. It moisturizes and softens dry parts of the skin naturally. It also, strengthens nails.
INGREDIENTS: Deionized water/Agua/ Palm Oil/Aceite de Palma/oleo de Palma/Huile de Palm, Shea Butter/Mantequilla de Shea/manteiga de Shea/buerre de Karite, Glycerin, PEG 40 Stearate, Stearic Acid, Glyceryl Monostearate, Guar Gum, Xanthan Gum, Phenoxyethanol, Vitamin A, E, CoEnzyme Q10, Beta Carotene, Lavender oil.
DIRECTIONS:  Apply generously after thoroughly washing and drying hands and body.